The V-shaped tumble blender offers a thorough and gentle mixing action with two inclined cylinders attached together in the form of "V".
| | |
| --- | --- |
| Total Volume | 100L, 300L, 500L, 1000L, 1500L, 2000L, 3000L, 4000L, 5000L, 6000L, 8000L, 10000L, 12000L, 15000L, 20000L |
| Construction Material | Carbon Steel, SUS304 Stainless Steel, SUS316 Stainless Steel |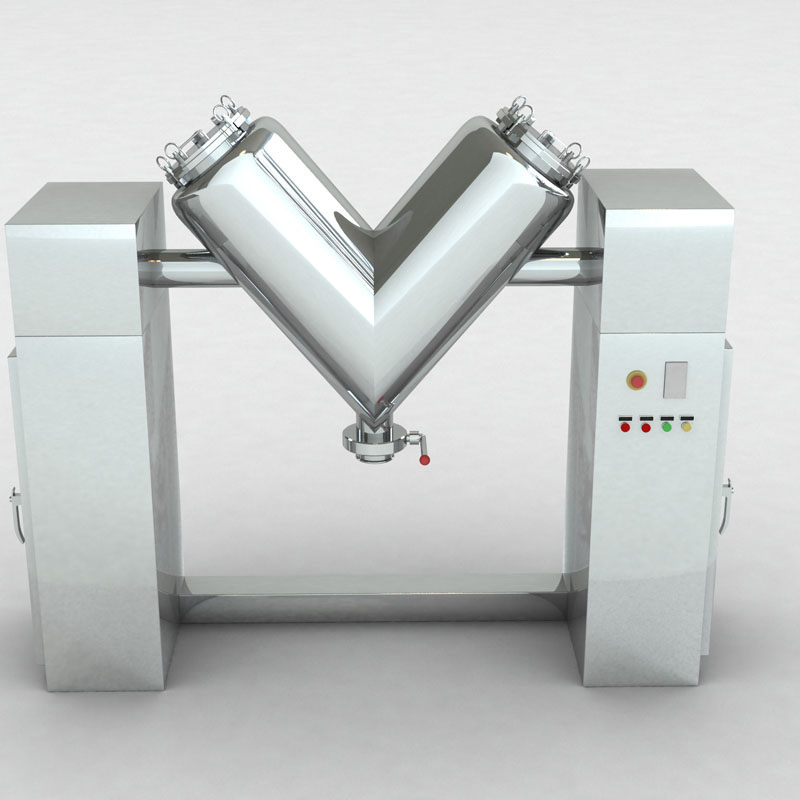 Vortex V-Shell Blenders uniformly displace materials for a complete blending of products via the intermeshed action of two inclined cylinders attached together in the form of a "V". This results in precise blending with short mix cycles. Tumble blending is most suited to products of uniform product size and density, and where requirements for fast, thorough cleaning are desirable in sanitary applications.
For applications requiring dispersion of minor ingredients, and/or breaking up materials, which tend to form agglomerates, the blender can be equipped with a solids intensifier bar (beater or pin type), which is designed for ease of removal.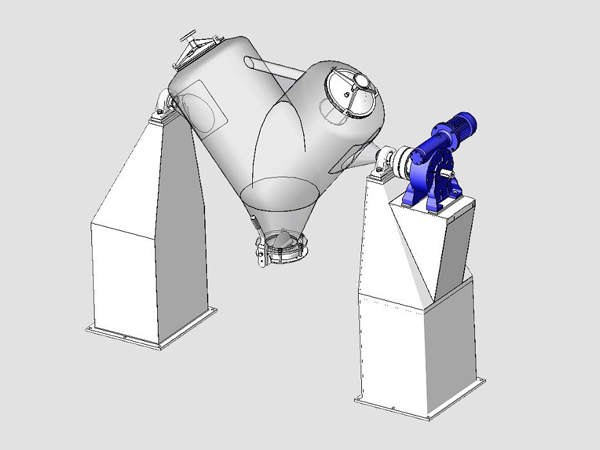 For incorporation of liquids, the intensifier bar shaft is hollow, and equipped with a feed tube to dispense liquid between the beater bar discs in a finely atomized spray throughout the mix. Batch working capacities range from 50 to 6000 liters.
For products having poor flow properties, a shell design having a 70° angle is available upon request.
Convertible models are available for the customer who does not have an immediate requirement for use of an agitator but has the possibility for future applications. This design includes a pre-machined blender idler shaft to accept bearing, seal assembly, and insertion of the agitator assembly. The Idler shaft hub ends are supplied with stainless steel caps and a motor base plate is installed on the support frame for future installation of the agitator drive. At the time of conversion, the agitator assembly complete with bearing and seal assemblies, motor, V-belt drive, and guard are furnished for installation without disrupting the equipment.
Technical Data
Model
Barrel
volume
Max loading
volume
Max loading
weight
Mixing
time
Motor
power
Barrel
speed
Overall
dimension
Weight
VM-50V
50L
20L
20kg
8-12min
0.75kw
20r/min
1250*450*1060mm
160kg
VM-100V
100L
40L
40kg
8-12min
1.1kw
15r/min
1620*500*1480mm
220kg
VM-200V
200L
80L
80kg
8-12min
1.1kw
15r/min
1800*600*1850mm
280kg
VM-300V
300L
120L
120kg
8-12min
1.1kw
12r/min
1900*650*1850mm
320kg
VM-500V
500L
200L
200kg
8-12min
2.2kw
12r/min
2500*800*2050mm
550kg
VM-1000V
1000L
400L
400kg
8-12min
4kw
10r/min
2850*1050*2050mm
950kg
VM-1500V
1500L
680L
680kg
8-12min
5.5kw
10r/min
3400*1100*3200mm
1200kg
VM-2500V
2500L
1200L
1200kg
0-99min
11kw
8r/min
3820*1100*3200mm
2040kg
VM-4000V
4000L
1800L
1800kg
0-99min
15kw
6r/min
4600*1300*3500mm
2800kg
VM-6000V
6000L
2500L
2500kg
0-99min
18.5kw
5r/min
5500*1300*4380mm
3200kg
Features
Both Vortex V-Shell Blenders can be furnished with a PLC controlled, automated drum loading system. With one full revolution of the blender, the entire contents of a product container (fiber, plastic or stainless steel drum) can be transferred into the blender and back into drums after mixing, in a dust-free operation. This system eliminates costly mezzanine platforms, and other feed systems which require special docking mechanisms that create risk of spillage.
During loading, the operator simply rolls the drum onto the roller conveyor, raises the lift cylinders to squeeze the drum against the valve discharge flange seal, and initiates the load cycle. The blender slowly rotates one revolution while automatically opening and closing the valve, and stopping at the zero position. The empty drum is lowered, and replaced with a full container to repeat the cycle until all contents are charged.
During discharging, an empty drum is positioned on the roller conveyor and sealed against the valve discharge flange seal. The operator opens/closes the valve to fill the drum, lowers the drum, and replaces with an empty drum to repeat the cycle until all contents have been discharged.
Standard design features of the ADL system include:
PLC controlled, fully automatic load and discharge functions.
Operator station supplied in stainless steel, watertight construction with "Touch Screen" operator interface display incorporating blend timers.
All stainless steel roller conveyor and instrumentation tubing.
Adjustable positioning cams with proximity sensors.
Pneumatic controls supplied in stainless steel, watertight construction, pre-mounted to blender frame (or for remote mounting, as desired). Contains all pneumatic valves with pushbutton control for raising/lowering lift cylinders, and opening/closing discharge valve. Operator is removed from the lift platform area for safe operation.
Sanitary butterfly discharge valve is clamped to the blender outlet for quick disassembly and with quick release design for ease of cleaning and maintenance. Valve flange seal can be customized to suit the customer's product container.
FDA quality drum flange seal can be easily removed from machined valve flange.
Special PLC programming with safety interlocks for optimum operator safety.
Shaft-mounted gear motor installed via shrink disc coupler eliminates maintenance of traditional gear drive. Speed regulation via AC variable frequency.