Frequently Asked Questions
Do you manufacture controls for your mixers?
vortexmixer
2021-10-18T15:42:51+08:00
Yes,  We can supply simple stand alone panels or automated PLC controlled systems. We normally install and test all controls on our mixers before they are shipped.
Share Us With Your Network
Smart Machinery Selection
First Step to Help Companies Avoid Food Safety Problem
Food safety problem has never been more serious in China. When it comes to safe food, it concerns everyone. With the development of China's economy, Chinese people are getting richer and richer. People expect to live a high quality life when they can afford it. However, scandals like melamine-laced milk, recycled gutter oil are constantly reminding people of the harsh reality: food safety problems are endangering each and every one. It is a problem Chinese government must face and solve to restore the confidence people have lost. According to the latest poll, 47.88% of the interviewees show their dissatisfaction with the performance of government. It is 29.72% when the same poll was conducted in 2012. Greed for money is the main reason behind those scandals. Due to the limited regulatory environment tainted by corruption, the chance of being caught is not that high. Opportunists are taking a chance when they clearly understand the harm their products do to the customers.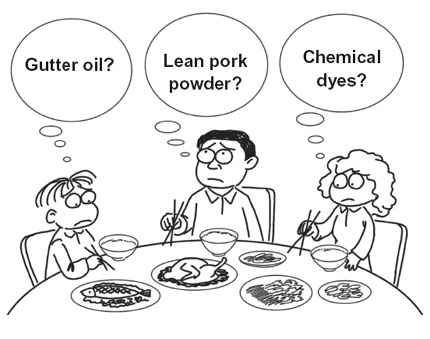 However, China is not the only country who is suffering from food safety problem. In the past decade, there has been a burst of food safety problem in developed countries like US and European Union where the regulations for the food safety are the strictest of all countries. Unlike China, the risk for selling unsafe food is way too high for companies in US. The reputation they have been building for decades could be ruined overnight for such problem. Hundreds of companies have gone bankruptcy after a serious food safety event. In the April of 2008, an outbreak of a mysterious salmonella incident forced the US Food and Drug Administration to issue a notice of fasting raw tomatoes. After a three-month investigation, the Authority announced that jalapeno is the real source. During this time, there are already more than 1,000 people being infected. The tomato processing industry suffered a loss of nearly $ 100 million. Some small companies such as the Naples tribute packaging company announced bankruptcy in this period of time.
Food safety problem has more to do with handling, preparation and storage of food for companies in western countries. This includes a number of routines that should be followed to avoid potentially severe health hazards. Low quality manufacturing equipments could be the key factors resulting in the unsafe food production. In the year of 2006, 42 people got food poisoning after eating the chocolate produced by one of the world's leading food companies British chocolate company Cadbury chocolate. Their products have been contaminated with salmonella by the cleaning equipment sewage. Cadbury had to recall of hundreds of thousand of chocolate companies within the EU and worldwide.
As a company devoting to maintain great performance of high quality products, how to avoid such food safety problems during your production? Smart machinery selection is the first step. As the expert of mixers and blenders, Vortex Mixing Technology understands this more than ever. Ribbon mixers are the common manufacturing equipments in lots of plants. When a new plant is built, owners will find that the prices of ribbon mixers vary a lot. For the same blender, Ross may charge USD 50,000 while a Chinese small company charges only USD 20,000. It is nature for businessman to consider cost performance. How to tell the differences from those two machines? Do they function the same or at least, the cheap one is very close to the performance of the expensive one.
Here are a few tips for your machinery selection of mixers and blenders.
1. You can usually sense if they are professional sellers from the inquiry process. Do they reply fast enough with detailed information you need or they just give you a vague reply. What behind a professional price offer usually is a team of pros. We don't want to get our jobs done by amateurs.
2. Be careful when the price offer is way too low compared to other offers from the same country. Any unreasonable offer is worth you taking some time to think before act. For some small factories, they might have the lowest price, they lack the skills to deliver what you need.
3. To find a high cost performance mixer, China is still the first choice for a lot of companies. Get a professional Mixer company such as Vortex is the smartest decision. The quality is guaranteed as well as the deadline. With hundreds of workers backing us up, there is no doubt that Vortex MT will stay on the top of mixers and blenders industry.
No people should be living in a world with fears of food safety problem. Chinese government is taking serious measures to solve this problem. They are learning from the lessons taught by western countries. With the growing globalization, it is a problem for all of us. Albert Einstein once said, intellectuals solve problems; geniuses prevent them. Well, we might not be geniuses, we do want to prevent food safety problem since the day we have a factory of our own.
Share Us With Your Network