Frequently Asked Questions
Do you manufacture controls for your mixers?
vortexmixer
2021-10-18T15:42:51+08:00
Yes,  We can supply simple stand alone panels or automated PLC controlled systems. We normally install and test all controls on our mixers before they are shipped.
Share Us With Your Network
Ribbon Blender Helps Family Workshops Change into A Modern Plant
Like everyone else, Mrs. Patmore is anxiously waiting for the vote result of Britain exiting from the EU. She wishes that UK would remain in the EU. However, the result of this referendum is disappointing. 51.9% votes to leave the EU. This could change everything for generations including Mrs. Patmore's bakery business.


Mrs. Patmore has been in the bakery industry since 2002. She started her business with a small homemade cupcake store in London. With her secret family recipe, her little cupcake quickly owned a place in the market. Almost all the clients are impressed with how tasty her cupcakes are. Her business starts to grow quickly. However, it is almost impossible for her to do the job alone. Soon her daughter Daisy joined this family business after graduation from business school.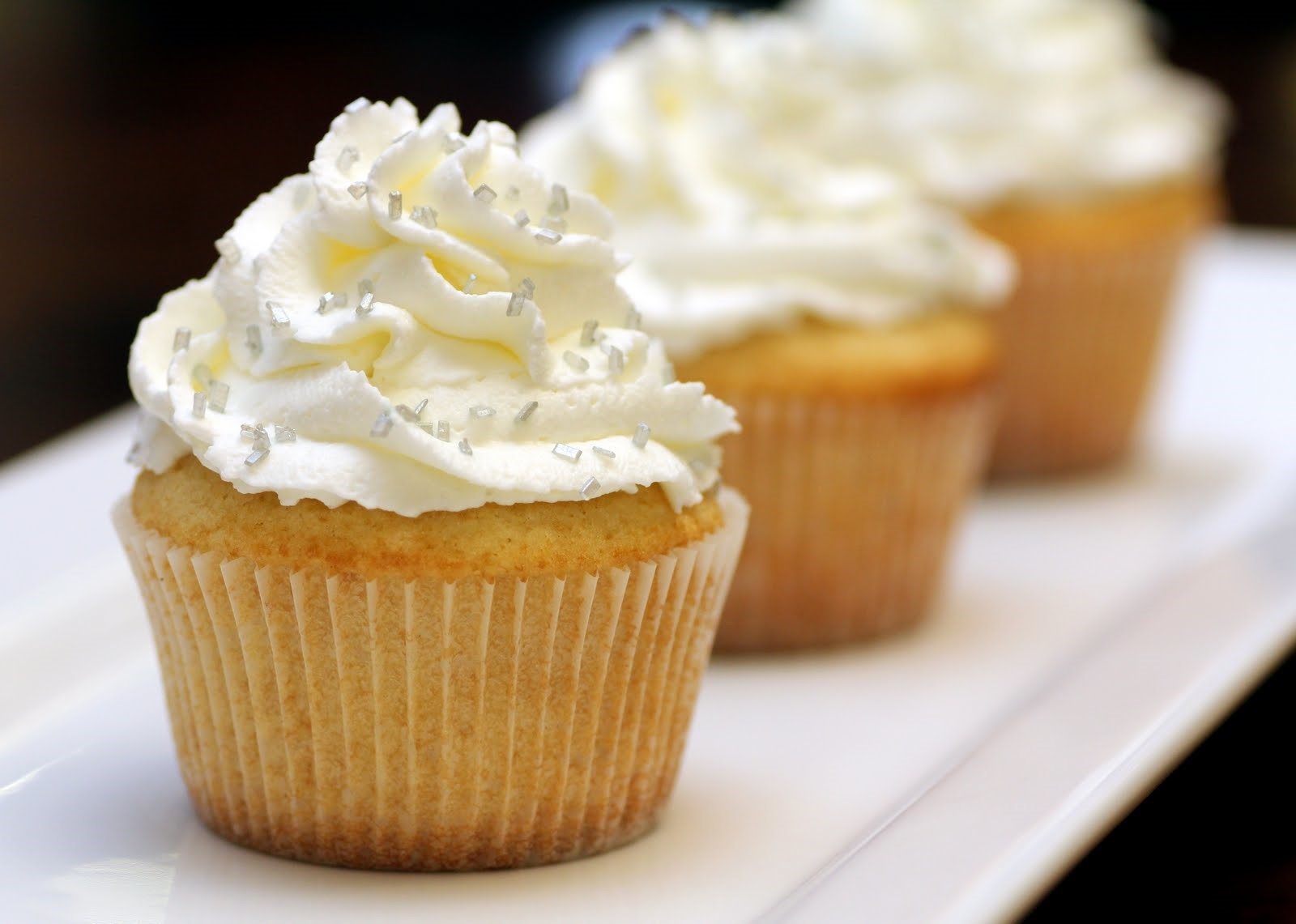 Daisy plans to build a brand of their own and launch a new line of homemade snacks. They want to sell them at supermarket and convenient store. To make it work, they have to make sure those bulk manufactured products taste as good as their homemade products. Mrs. Patmore do not want to lose their reputation for the flavor. She needs some help with bulk material handling. She turned to Vortex Machinery Company for help.
"The challenges of the mixes for cookies, cakes and muffins is how to keep a high level of accuracy," said Stan, Senior Engineer of Vortex Mixer. "Ingredients such as flour, baking soda, sugar, milk powder, starch, yeast, salt, gums, flavors and additives are combined in a precise proportion which must be preserved in the final packaging."
Thorough mixing in a well-designed Vortex Ribbon Blender is a reliable method for preparing baking mixes with superior batch-to-batch consistency and minimal downtime between recipes. Dry ingredients are loaded into the U-shaped trough and mixed by a horizontal solid-shaft agitator consisting of inner and outer helical ribbons. The position and precise pitch of each ribbon produce a well-balanced axial and radial flow pattern, promoting fast and thorough mixing even of very minor ingredients.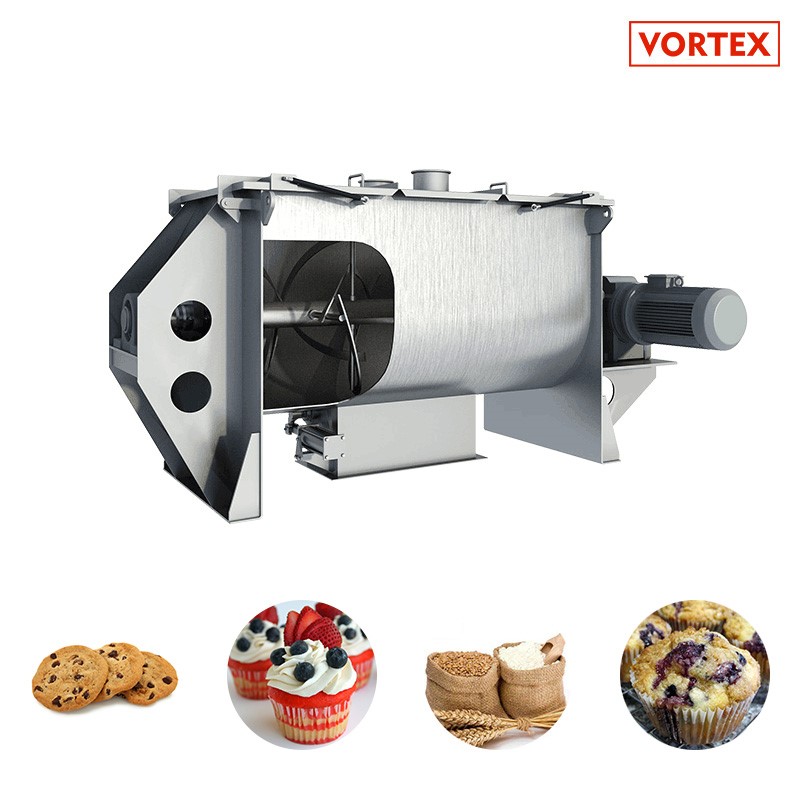 With this ribbon mixer, you may get a very evenly coat of the solid particles by spraying liquid components into the powders at a controlled rate as they are being mixed vigorously. Maximum tip speed of the ribbon agitator is around 300 ft/min. Utilizing a Variable Frequency Drive (VFD), the blending action can be fine-tuned according to the characteristics of a particular recipe, i.e. its density, flow ability, tendency to dust, presence of large or fragile particles, etc. The advantage of electronic speed control is significant especially for plants that batch multiple products in one blender. Designed to handle fast-paced and frequent changeovers, Vortex Ribbon Blenders are also extensively used for mixing flour blends, spices, sweeteners, bread improvers and other baking ingredients.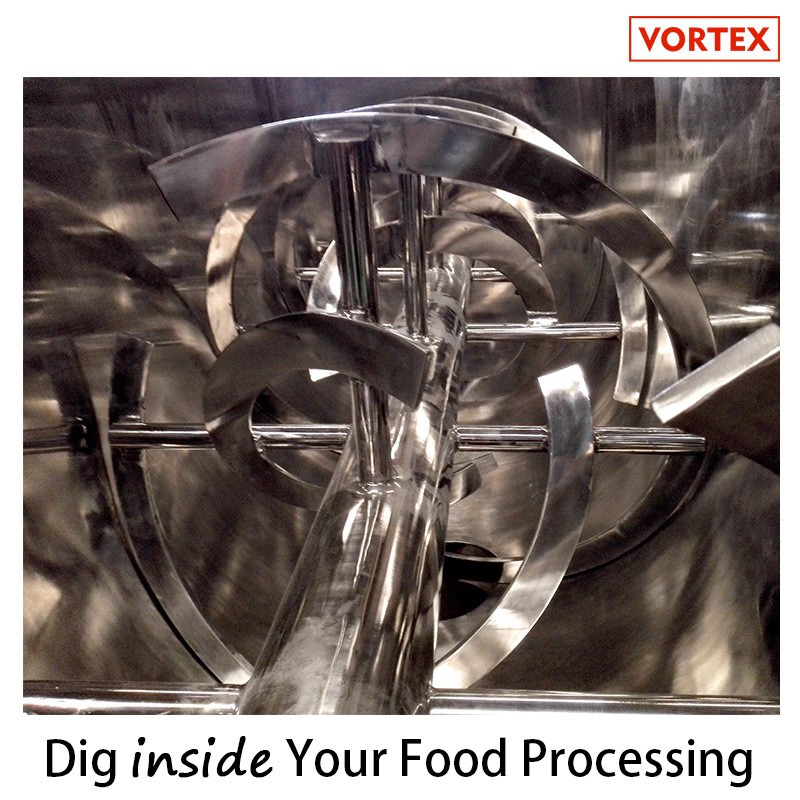 "We are very happy with the product line Vortex designed for us. We did our best to ensure the flavor of our products is good enough for our clients. "said Daisy. "We are able to develop more flavors with the help of this product line. Our business has successfully expanded to Europe. Even the Brexit can't stop us from moving forward." Mrs. Patmore is no longer concerned about the piled orders. She is confident that her business will continue to thrive with the support of her new product line.
Share Us With Your Network