Frequently Asked Questions
Do you manufacture controls for your mixers?
vortexmixer
2021-10-18T15:42:51+08:00
Yes,  We can supply simple stand alone panels or automated PLC controlled systems. We normally install and test all controls on our mixers before they are shipped.
Share Us With Your Network
Vortex makes Ribbon Blender for Specialty Applications
As the feature of ribbon blender allowing a full range of customization and vortex welcomes the customizations, vortex ribbon blenders offer many practical solutions for specialty and required applications. These customized ribbon blenders are widely used for mixing and blending fine powders, granules, pellets and other good fluidity solids, as well as wet applications such as suspensions, slurries and pastes. Vortex customized ribbon blenders are available in vacuum application and internal pressure, temperature control, food standard constructions, special requirements for feeding and discharging, safety guards, access and maintenance door, handling of high density, friable or abrasive materials, spray system for liquid additions, load cells and automated recipe controls. Vortex could offer these optional features routinely.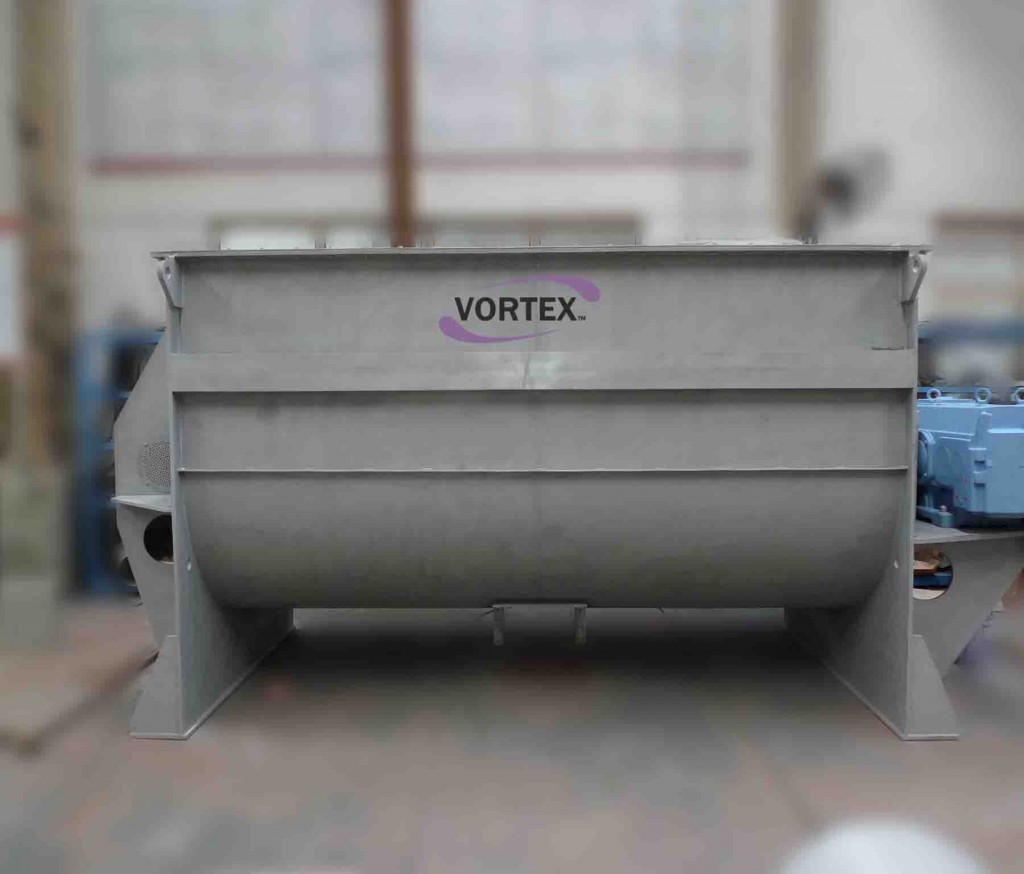 Pictured is a vortex model VRB-10m³ carbon steel ribbon blender with volume of 6500L maximum working capacity. Driven by a 55kw motor (Siemens brand) and reducer (gear reducer), the precisely fabricated double ribbon agitators turn to up to 20 rpm within the U-shaped vessel, forming a convection movement, producing a balanced lateral and radial movement of mixing materials. As customer required, wetted parts are made of carbon steel for economic cost requirements. The blender cover includes safety grating and custom bag dump station. The discharge port is installed with valve driven by pneumatic jacket, and the seal of discharge port is very reliable. Meanwhile, carbon steel jacket is supplied around the trough for heating usage. Multiple spray bars and nozzles deliver liquid raw materials. This jacket type ribbon blender is for our South Africa customer's carbon slurry and binder's mixing and drying application.
For more information on Vortex ribbon blenders or other blenders, please feel free to visit our website: www.incmachine.com or email to info@incmachine.com to discuss with our sales engineers for your specialty applications.
Share Us With Your Network