GMP standard Conical Screw Mixer attracts Nutrition manufacturer
Vincent Campbell plans to establish a new product line for his chemical factory coming out in 2016. His research team spent the last 3 months for their new product which Vincent believed to be something to rock the market. However, they do have a problem needed to be solved right away. They need to mix vitamins, minerals, and our main product sodium sulphate together with propionic acid (liquid)
After discussing with Vincent, we get to know that he will need a 500L conical screw mixer according Good Manufacturing Practice. Contamination is 100% not allowed during production, we takes some measures to avoid leakage:
1. Mechanical seal on top shaft below reducer box part and also oil seal at below.
2. The lubrication on mixing arm is high temperature resistant lithium grease, which is like high viscosity grease not liquid.
3. Double layer oil seal on screw flange part.
Besides this, we equipped a vacuum conveyor to lift raw materials, vacuum conveyor won't break raw materials, what's more, no contamination risk; we also equipped liquid spray device and heating jacket for him.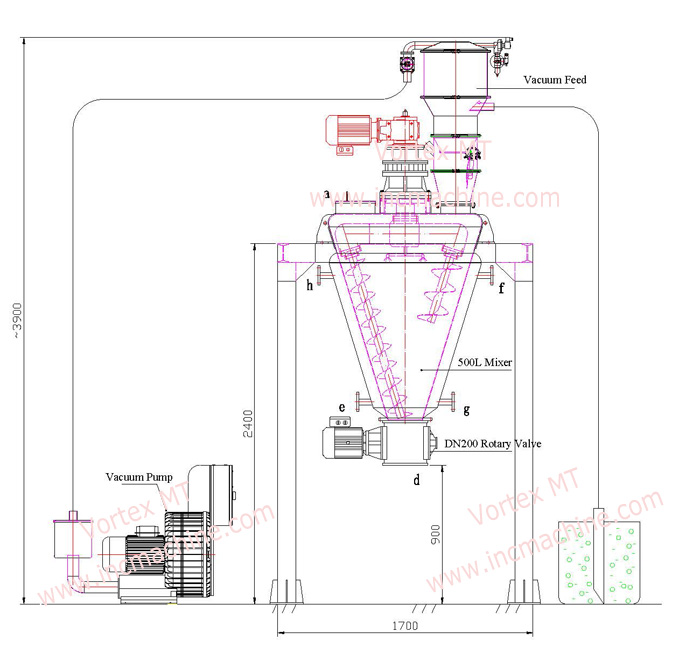 After checking our proposal, Vincent is very satisfied, we also made a test in our lab, the mixing result exceed Vincent's expect. He told us that he will purchase 15 sets GMP standard conical screw mixer on site
Over the past decade, lab testing has been a big part for helping Vortex MT clients pick up the most suitable blenders. We are very interested in learning about your mixing needs.